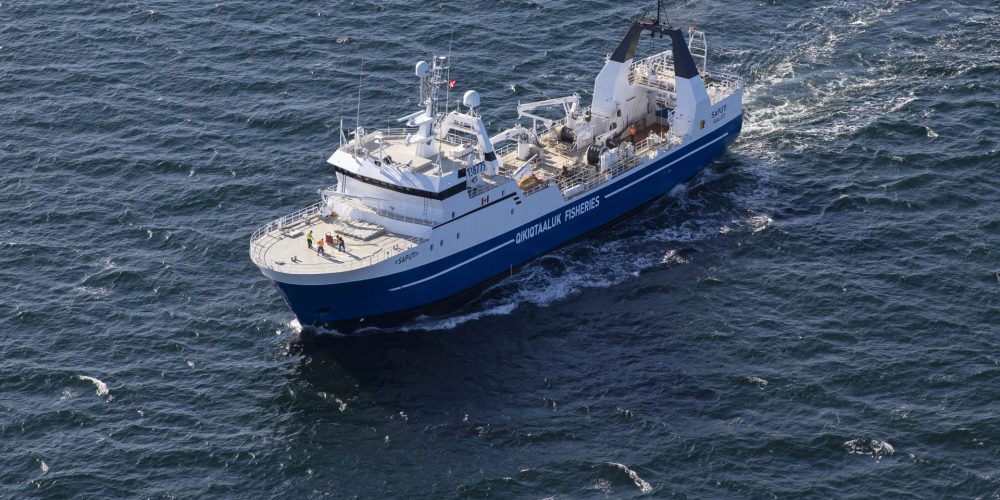 What We Do
QC Fisheries Division oversees all fishery and marine related activities in our group of companies. We manage and distribute QC's fishing quota and QC's portion of Unaaq's quota as well as fishing allocations received through the Nunavut Wildlife Management Board's Access and Allocations process.
The QC Fisheries Division is dedicated to helping Nunavut's fishing industry. The Division represents QC on various fishery related Boards, Agencies and Associations and we are advocates for fair and equitable allocations and the repatriation of quotas in Nunavut's adjacent waters.
How We Do It
Enhance Qikiqtani community fishery participation
Qikiqtaaluk Corporation was built on the success of their participation in the offshore fishery. The Fisheries Division sees this same potential for a successful fishery in each of the Qikiqtani communities. We offer support, guidance and expertise to our communities in pursuing their inshore fisheries.
We support our communities to acquire the infrastructure needed to support their fishery development. From fishing vessels and supplies to community freezers and processing plants we can form partnerships to help your community invest in this capital.
Collaboration with Nunavut Allocation Holders
Historically, quotas and licences in Nunavut's adjacent waters were allocated to organizations outside of Nunavut with no Indigenous or adjacent claim. The repatriation of these fishing quotas is an important step towards reconciliation between Inuit and the Crown.
The Fisheries Division is a strong advocate for the repatriation of quotas to Nunavut-based commercial fishers. We work with the Nunavut Wildlife Management Board to promote a fair and equitable policy for access and allocations to Nunavut's adjacent fishing stock.
We are active participants and members of several Associations and Organizations that work to foster the Nunavut fishing industry. We collaborate with the other Nunavut allocation holders to participate in industry and government meetings and conferences to promote the continued growth of the Nunavut fishing industry, working to provide a unified industry voice on issues of concern. Our memberships include:
World Ocean Council
Fisheries Council of Canada
Nunavut Fisheries and Marine Training Consortium
Northern Shrimp Research Foundation
Nunavut Coalition Corporation
Nunavut Fisheries Association